At Ruff Dawg, we are proud that all our toys are made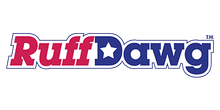 Woof Gang Bakery & Grooming Allendale is proud to carry Ruff Dawg in Allendale, New Jersey. Ruff Dawg – a division of Jefferson Rubber Works ,is a family owned rubber molding company in Worcester MA, founded in 1975. Back in 1995, Jefferson Rubber Works was making a 9 inch diameter rubber disc used for water aeration at wastewater treatment plants. In any manufacturing run, some pieces are imperfect and discarded. The team members took advantage of the part's aerodynamic shape and began tossing around these imperfect discs as break time entertainment.
When sales of the part dropped off in 1999, the idea of doing something different with it took hold. They made up samples of the disc in different colors, and sent them home with all the dog owners who worked at the factory to test. All reports came back positive, and after a factory-wide contest to name the creation, the K9-Flyer, and Ruff Dawg was born.
Stop in and visit our pet & grooming boutique in Allendale, NJ specializing in quality food, organic treats, and the latest in fun toys for our furry friends.